Shroud of Jesus Christ
| | | |
| --- | --- | --- |
| | The burial Shroud of Jesus Christ | |
The Turin Shroud, is this the image of Jesus Christ?
The image on the Shroud
believed to be that of Jesus Christ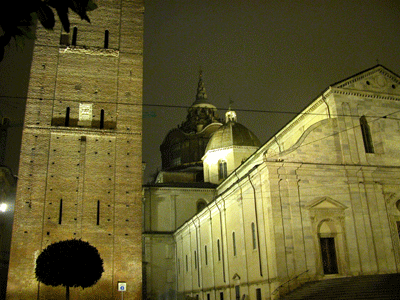 The basilica of Cathedral of Turin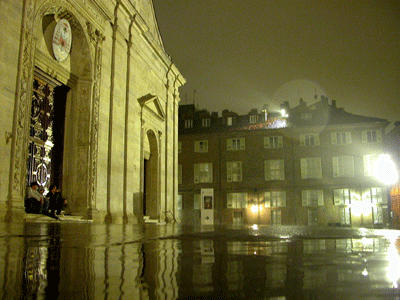 Main entrance of the Cathedral of Turin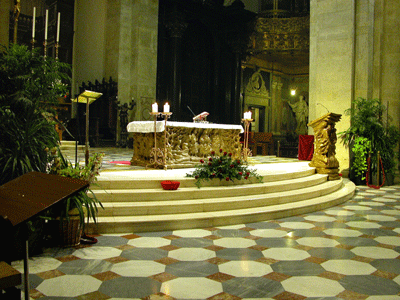 High Altar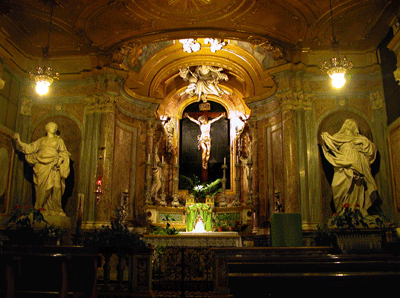 Side altar opposite the Guarini Chapel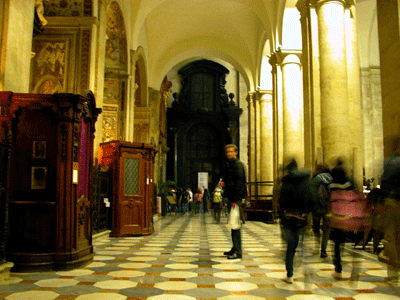 People gathering near the Guarini Chapel,
housing the Holy Shroud
The Guarini Chapel housing the Holy Shroud
The Guarini Chapel, housing one of
the most precious relics of the Christian world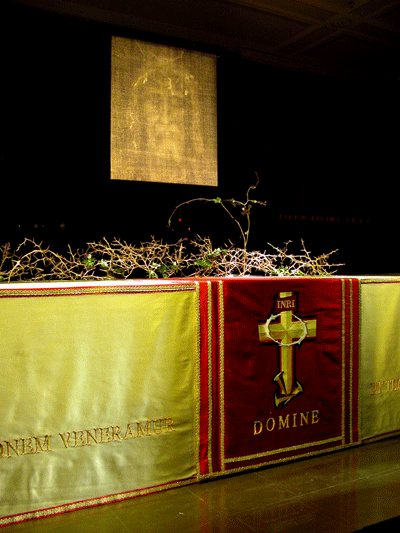 Inside the Guarini Chapel, the Shroud is safely kept
in a silver box in this altar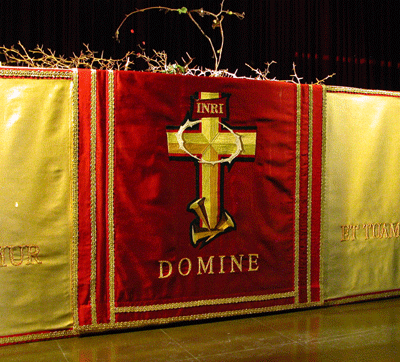 Center decoration inscribed DOMINE, "Lord, man of the Cloth"
The case containing the Shroud is now covered with a light, fire-resistant and easily removable cloth, which has a precious embroidery of silk threads, along which we find the prayer that has accompanied the veneration for the Shroud for years:
"W
e venerate your Shroud, Lord ...


...
and with it we meditate on your Passion.
"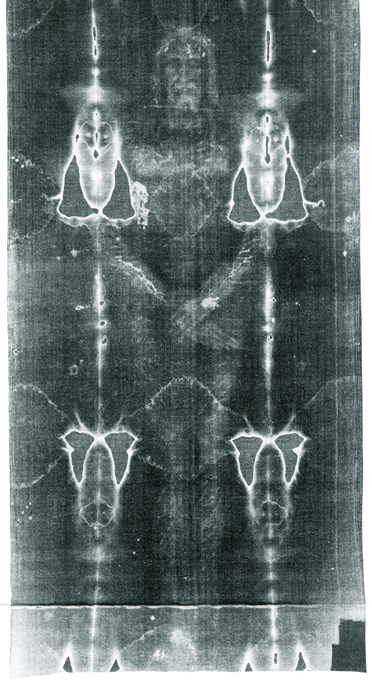 Front image of the Shroud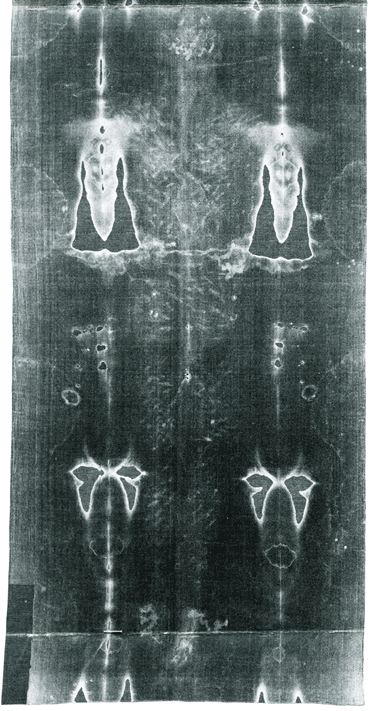 Back image of the Shroud


1. Scorch marks
2. Marks caused by water
3. Nail wounds in the left wrist
4. Wound in the right side
5. Face
6. Flow of blod on the forehead
7. Flow of blod on the nape of the neck
8. Scourge marks
9. Holes caused by fire in 1532
10. Sole of the right foot

The Shroud which is 4,42 meter long and 1,13 meter wide and is made of "herringbone" weaved linen.
According to tradition the Shroud is the burial cloth in which Jesus was wrapped after the crucifiction. The Bible tells us that he was taken down from the cross and that Joseph of Arimathea laid the body of Jesus in his family tomb. The body was wrapped in a long linen cloth swept from the feet, over the head and down on the front of the body. This was the burial custom of the time along with anointing with precious oils and herb.

Exhibition of The Turin Shroud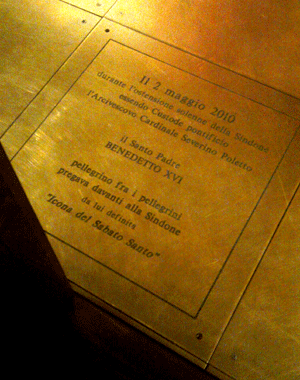 Exhibition, spring 2010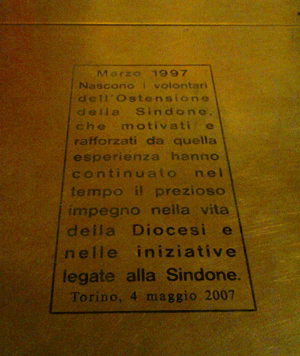 In 1997 - 11-12. April, a few days before the restoration work is completed, the Guarini Chapel is gutted by fire. The shroud is rescued by firemen of Turin.
14th April - the Commission in charge of the conservation of the Shroud ascertains that it has not been damaged.
Next exhibition will be in year 2025
The history of the Turin shroud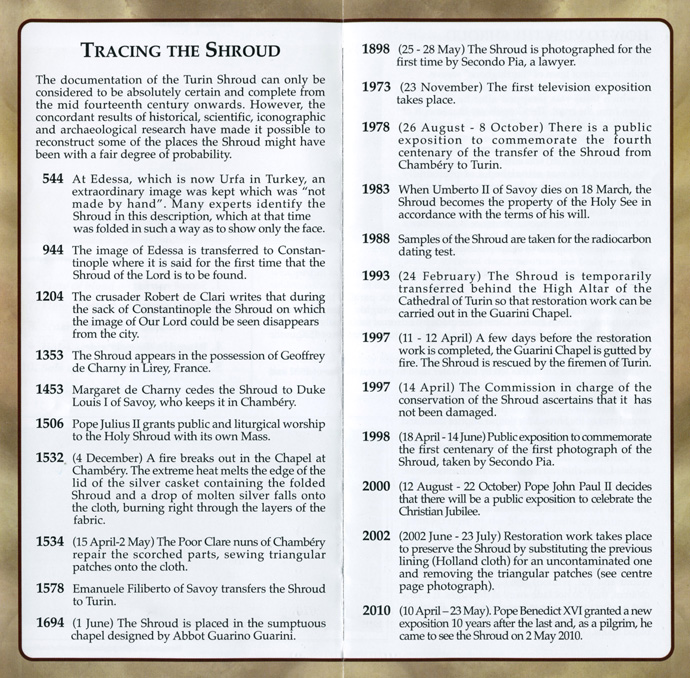 Impressions in the Church vicinities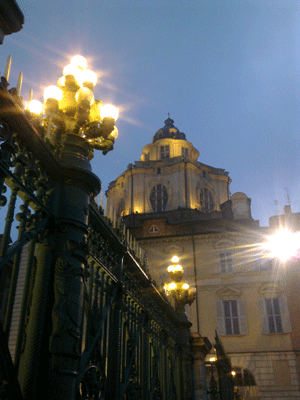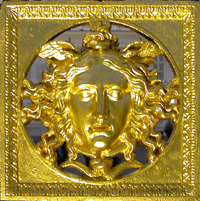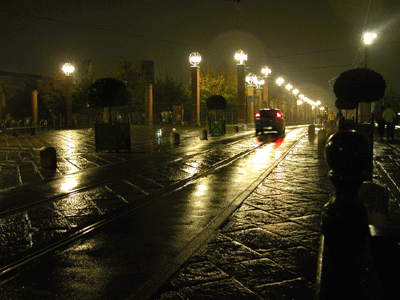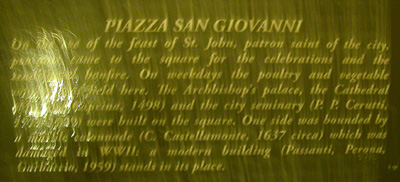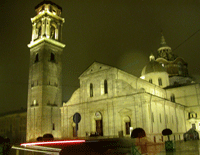 "Saint John the Baptist"